Pastor & Mrs. Rick Libby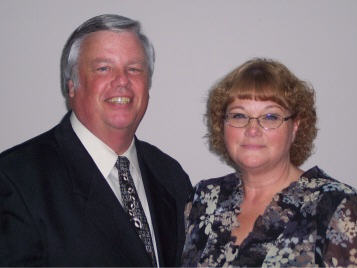 Pastor Rick Libby will tell you that he has been in full time ministry all of his life. He was one of those "notorious" "PK's" or preachers kids. Pastor Rick remembers how he would, even as a young boy help clean the church, or help with other various church projects. He recalls that much of his summer growing up was given to mowing the church lawn and going to camp meeting, to which he has no regrets. In fact, he will be quick to tell you that he learned many handy skills by watching and helping with the numerous building projects that took place at the Charleston Pentecostal Church as he grew under his Dad's ministry. Although he was always involved in different aspects of ministry such as teaching Sunday School, working with the youth group and leading the congregation in worship. It was not until the age of 20 that he really did enter full time ministry. His first full time position was to serve as an assistant pastor to his father and the congregation at the Charleston Pentecostal Church in Charleston, Maine (1978-1985). Pastor Rick looks at those 8 years as the most important years of his ministry experience. "Any success that I have had in ministry can be credited to the things that I learned while working with my father. I learned invaluable lessons that have helped me and guided me throughout all my years as a pastor."
In 1985 Pastor Rick and his family moved to Presque Isle, Maine where he took his first pastorate. He has since pastored in Lexington Park, Maryland (1992-1998), Portland, Maine (1998-1999), Belfast, Maine (1999-2004) and Mattawamkeag, Maine (2009-2014). In October of 2004 Pastor Rick came back to Souls Harbor as the Associate Pastor of Souls Harbor. In October 2009 due to the declining health of Pastor Ronnie Libby, who was unable to continue as the Senior Pastor, Pastor Rick assumed the leadership of Souls Harbor Ministries.
Pastor Rick has always maintained his connection with the Souls Harbor ministry. He clearly can remember the birth of the television ministry as a young boy of only 11. He began singing on the program at about age 13, and has been ministering on the program in various capacities ever since.
"I see Souls Harbor as a ministry that fulfills a vital role in the world today. One of our goals is not to take people from church, but to bring church and most importantly, the message of the Gospel, to the people." Pastor Rick states, "I believe God has a great work for our ministry and I am excited at the opportunities that lay before us and the doors that God is already opening. I am convinced that we will never fully understand the impact that we may have had on the lives of men and women until we get to heaven. I pray that God will help us to continue this ministry until that day He calls us all home to be with Him."
Pastor Rick and his high school sweetheart, Linda, were married in 1976. They are extremely proud of their children. They have three daughters, Bethany and husband Glenn presently serve as Senior Pastor at the Zion Pentecostal Church in Mattawamkeag, Maine, Kristin, and her husband Josh, presently live in Illinois where Josh works for Boeing Aircraft and Kristin works in banking. Carrie, a school teacher, and her husband Joel live in New Brunswick, Canada where they own their own business and are actively involved in ministry. Pastor Rick and Linda also have 8 grandchildren.